In 2008, his calling card was the feature on

MI Abaga

's classic album,

Talk About It.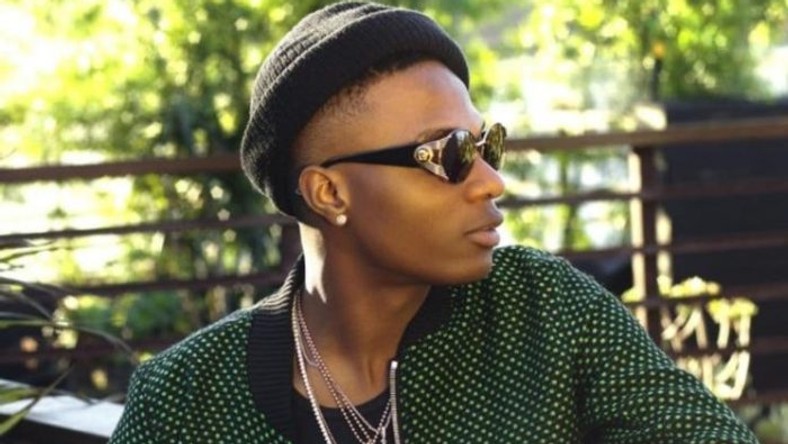 Wizkid was once known as Young Prince. He was a studio rat who paid his dues by learning at OJB Jeezreel's studio in Surulere, Lagos. In 2008, his calling card was the feature on MI Abaga's classic album, Talk About It.
The song was the
Kraftmatiks
-produced '
Fast Money, Fast Cars.'
He got noticed by mainstream Nigeria and proceeded to sign a record deal with the
Banky W
and
Demuren
-brothers run,
Empire Mates Entertainment
in the third quarter of 2009. In December 2009, he released his debut single,
'Holla At Your Boy.'
By 2010, the sound switched to appeal to a mainstream audience when 'Tease Me' was released. '
Don't Dull'
then sealed his mainstream appeal before his classic album,
Superstar
was released to an amazing reception in 2011. Since then, he has not stopped. In fact, he has pumped the gas further.
In 2012, he featured on the
Empire States of Mind
collaborative album in 2012. He released
Ayo
in 2014,
Sounds From The Other Side
in 2016 as his first album release under
Starboy.
In 2017, he inked a multi-album deal with
RCA
and
Soundman Vol. 1
was released in December 2019 as a
Starboy
project.
Wizkid became the first Afrobeats artist to appear in the 2018 Guinness World Records for his contribution to 'One Dance.'
Internationally, he became the first Nigerian artist with a Billboard Hot 100 No. 1 single when he featured on
Drake
's '
One Dance'
alongside
Kyla
in 2016. He has also collaborated with
Metro Boomin, Zara Larsson, Skepta, Justin Skye, Tinie Tempah
and more.
By long or short,
Wizkid
is the greatest act of his generation.
Here is a list of Wizkid's awards and nominations;
| Year | Event | Award | Recipient | Status |
| --- | --- | --- | --- | --- |
| 2020 | NAACP Image Awards | NAACP Image Award for Outstanding Duo or Group | "Brown Skin Girl" | Won |
| 2019 | Soul Train Music Awards | Best collaboration | "Brown Skin Girl" | Nominated |
| 2019 | Soul Train Music Awards | The Ashford & Simpson Songwriter's Award | "Brown Skin Girl" | Won |
| 2019 | AFRIMA | Song of The Year | "Fever" | Won |
| 2019 | AFRIMA | Best Male West Africa | Himself | Won |
| 2019 | AFRIMA | Crossing Boundaries with Music Award | Himself | Won |
| 2019 | AFRIMA | Artist of The Year | Himself | Won |
| 2017 | MOBO Awards | Best International Act | Himself | Won |
| 2017 | All Africa Music Awards | Best West African Artiste | Himself | Won |
| 2017 | All Africa Music Awards | Song of the year | "Come Closer" (featuring Drake) | Won |
| 2017 | All Africa Music Awards | Artist of The Year | Himself | Won |
| 2016 | African Pride Awards | African Artist of the Year | Himself | Won |
| 2016 | BET Awards | Best International Act Africa | Himself | Nominated |
| 2016 | Ghana Music Awards | African Artist of the Year | Himself | Won |
| 2015 | All Africa Music Awards | Artist of the Year | Himself | Nominated |
| 2015 | All Africa Music Awards | Best Male Artist in West Africa | Himself | Nominated |
| 2015 | All Africa Music Awards | Songwriter of the Year | Himself | Nominated |
| 2015 | All Africa Music Awards | Album of the Year | "Ayo" | Nominated |
| 2015 | All Africa Music Awards | Song of the Year | Ojuelegba | Nominated |
| 2015 | 4Syte TV Music Video Awards | Best African Act Video | Himself | Nominated |
| 2015 | African Muzik Magazine Awards | Best Male West Africa | Himself | Nominated |
| 2015 | African Muzik Magazine Awards | Artist of the Year | Nominated | Nominated |
| 2015 | African Muzik Magazine Awards | Song of the Year | "Ojuelegba" | Won |
| 2015 | African Muzik Magazine Awards | Best Video | "Ojuelegba" | Won |
| 2015 | 2015 Nigeria Entertainment Awards | Male Artist of the Year | Himself | Won |
| 2015 | 2015 Nigeria Entertainment Awards | Best Pop Artist of the Year | Himself | Nominated |
| 2015 | 2015 Nigeria Entertainment Awards | Best Dance/Live Performance | Himself | Nominated |
| 2015 | 2015 Nigeria Entertainment Awards | Hottest Single of The Year | "Ojuelegba" | Won |
| 2015 | 2015 Nigeria Entertainment Awards | Album of the Year | Ayo | Nominated |
| 2015 | MTV Africa Music Awards 2015 | Best Male | Himself | Nominated |
| 2015 | MTV Africa Music Awards 2015 | Song of the Year | "Show You The Money" | Nominated |
| 2015 | Mobo Awards | Best African Act | Himself | Nominated |
| 2015 | The Headies 2015 | Best Pop Single | "Ojuelegba" | Nominated |
| 2015 | The Headies 2015 | Best Recording of The Year | "Ojuelegba" | Nominated |
| 2015 | The Headies 2015 | Song of The Year | "Ojuelegba" | Won |
| 2015 | The Headies 2015 | Best R&B Single | "Say You Love Me" (Leriq featuring Wizkid) | Nominated |
| 2015 | The Headies 2015 | Best Collabo | "Sisi" (Praiz featuring Wizkid) | Nominated |
| 2015 | The Headies 2015 | Best R&B/Pop Album | Ayo | Won |
| 2015 | The Headies 2015 | Album of the Year | Nominated | Nominated |
| 2015 | The Headies 2015 | Artiste of The Year | Himself | Nominated |
| 2015 | Headies 2014 | Artiste of the Year | Himself | Nominated |
| 2015 | Headies 2014 | Best Pop Single | "Pull Over" (Kcee featuring Wizkid) | Nominated |
| 2015 | Headies 2014 | Best Pop Single | "Caro" (Starboy featuring L.A.X and Wizkid) | Himself |
| 2015 | Headies 2014 | Best Reggae/Dancehall Single | "Bad Girl" (Jesse Jagz featuring Wizkid) | Nominated |
| 2014 | 2014 Channel O Music Video Awards | Most Gifted Duo/Group or Featuring | "Slow Down" (R2Bees featuring Wizkid) | Nominated |
| 2014 | 2014 Channel O Music Video Awards | Most Gifted Duo/Group or Featuring | "Pull Over" (KCee featuring Wizkid) | Won |
| 2014 | 2014 Channel O Music Video Awards | Most Gifted Ragga Dancehall | "Bad Girl" (Jesse Jagz featuring Wizkid) | Nominated |
| 2014 | Mobo Awards | Best African Act | Himself | Nominated |
| 2014 | 2014 Nigeria Entertainment Awards | Hottest Single of the Year | "Pull Over" (KCee featuring Wizkid) | Won |
| 2014 | 2014 Nigeria Entertainment Awards | Hottest Single of the Year | "Caro" (Star Boy featuring L.A.X and Wizkid) | Nominated |
| 2014 | 2014 Nigeria Entertainment Awards | Male Artist of the Year | Himself | Nominated |
| 2014 | 2014 Nigeria Entertainment Awards | Best Music Video of the Year (Artist & Director) | "Jaiye Jaiye" (alongside Sesan) | Nominated |
| 2014 | African Muzik Magazine Awards | Best Male West Africa | Himself | Nominated |
| 2014 | African Muzik Magazine Awards | Artist of the Year | Himself | Nominated |
| 2014 | African Muzik Magazine Awards | Song of the Year | "Caro" (Star Boy featuring L.A.X and Wizkid) | Nominated |
| 2014 | African Muzik Magazine Awards | Best Collabo | "Slow Down" (R2Bees featuring Wizkid) | Nominated |
| 2014 | African Muzik Magazine Awards | Best Collabo | "Surulere Remix" (Dr SID featuring Don Jazzy, Phyno, and Wizkid) | Nominated |
| 2014 | City People Entertainment Awards | Musician of the Year (Male) | Himself | Nominated |
| 2014 | City People Entertainment Awards | Most Popular Song of the Year | "On Top Your Matter" | Nominated |
| 2014 | City People Entertainment Awards | Best Collabo of the Year | "Pull Over" (KCee featuring Wizkid) | Nominated |
| 2014 | MTV Africa Music Awards 2014 | Best Male | Himself | Nominated |
| 2014 | MTV Africa Music Awards 2014 | Best Collaboration | "Slow Down" (R2Bees featuring Wizkid) | Nominated |
| 2014 | Ghana Music Awards | African Artiste of the Year | Himself | Nominated |
| 2014 | Ghana Music Awards | Afro Pop Song of the Year | Nominated | Nominated |
| 2014 | Ghana Music Awards | Best Collaboration of the Year | "Slow Down" (R2Bees featuring Wizkid) | Nominated |
| 2014 | Ghana Music Awards | Vodafone Song of the Year | "Slow Down" (R2Bees featuring Wizkid) | Nominated |
| 2014 | World Music Awards | World's Best Entertainer of the Year | Himself | Nominated |
| 2014 | World Music Awards | World's Best Live Act | Himself | Nominated |
| 2014 | World Music Awards | World's Best Male Artist | Himself | Nominated |
| 2014 | World Music Awards | World's Best Song | "Eledumare" | Nominated |
| 2014 | The Headies 2013 | Artiste of the Year | Himself | Nominated |
| 2014 | The Headies 2013 | Best Music Video | "Azonto" | Nominated |
| 2013 | The Headies 2013 | Best Collabo | "Baddest Boy" (EME featuring Wizkid, Skales, and Banky W.) | Nominated |
| 2013 | Nigeria Music Video Awards (NMVA) | Best Use of Visual Effects | "Sexy Mama" (Iyanya featuring Wizkid) | Nominated |
| 2013 | Nigeria Music Video Awards (NMVA) | Best Afro Beat Video | "Caro" (Starboy featuring L.A.X and Wizkid) | Nominated |
| 2013 | 2013 MTV Europe Music Awards | Best African Act | Himself | Nominated |
| 2013 | MOBO Awards | Best African Act | Himself | Nominated |
| 2013 | Channel O Music Video Awards | Most Gifted Duo/Group/Featuring Video | "Baddest Boy" (EME featuring Wizkid, Skales, and Banky W.) | Nominated |
| 2013 | Channel O Music Video Awards | Most Gifted Male Video | "Azonto" | Nominated |
| 2013 | Channel O Music Video Awards | Most Gifted Video of the Year | Won | Won |
| 2013 | 4Syte TV Music Video Awards | Best African Act Video | | Nominated |
| 2013 | 4Syte TV Music Video Awards | Best Group Video of the Year | "Slow Down" (R2Bees featuring Wizkid) | Won |
| 2013 | 4Syte TV Music Video Awards | Best Directed Video | "Slow Down" (R2Bees featuring Wizkid) | Nominated |
| 2013 | 4Syte TV Music Video Awards | Most Popular Video | "Slow Down" (R2Bees featuring Wizkid) | Nominated |
| 2013 | 4Syte TV Music Video Awards | Most Influential Video | "Slow Down" (R2Bees featuring Wizkid) | Nominated |
| 2013 | Ghana Music Awards | African Artist of the Year | Himself | Won |
| 2013 | Ghana Music Awards | Reggae Dance Hall Song of the Year | "Time Bomb" (Samini featuring Wizkid) | Nominated |
| 2013 | Nigeria Entertainment Awards | Hottest Single of the Year | "Beat of Life (Samba)" (Sarz featuring Wizkid) | Nominated |
| 2013 | Nigeria Entertainment Awards | Best Pop/R&B Artist of the Year | Himself | Nominated |
| 2013 | City People Entertainment Awards | Musician of the Year (Male) | Himself | Won |
| 2013 | City People Entertainment Awards | Best Collabo of the Year | "Fine Lady" (Lynxxx featuring Wizkid) | Nominated |
| 2013 | City People Entertainment Awards | Best Hip-Hop Artiste of the Year | Himself | Nominated |
| 2012 | The Future Awards | Musician of the Year | Himself | Won |
| 2012 | 4Syte TV Music Video Awards | Best African Act Video | "Dance for Me" (EME featuring Wizkid) | Nominated |
| 2012 | BET Awards 2012 | Best International Act Africa | Himself | Won |
| 2012 | 2012 MTV Europe Music Awards | Best African Act | Himself | Nominated |
| 2012 | Channel O Music Video Awards | Most Gifted West African Video of the Year | "Pakurumo" | Nominated |
| 2012 | The Headies 2012 | Artist of the Year | Himself | Won |
| 2012 | The Headies 2012 | Hip Hop World Revelation of the Year | Himself | Won |
| 2012 | The Headies 2012 | Album of the Year | Superstar | Nominated |
| 2012 | Nigeria Entertainment Awards | Best Album of the Year | Superstar | Won |
| 2012 | Nigeria Entertainment Awards | Best Pop/R&B Artist of the Year | Himself | Won |
| 2012 | Nigeria Entertainment Awards | Hottest Single of the Year | "Pakurumo" | Nominated |
| 2012 | Nigeria Entertainment Awards | Best Music Video of the Year | "Pakurumo" | Nominated |
| 2012 | Nigeria Entertainment Awards | Best Collabo of the Year | "Girl" (Bracket featuring Wizkid) | Nominated |
| 2012 | Nigeria Entertainment Awards | Best Collabo of the Year | "Familiarity" (Jayru featuring Wizkid) | Nominated |
| 2012 | Ghana Music Awards | African Artist of the Year | Himself | Nominated |
| 2011 | 4Syte TV Music Video Awards | Best African Act Video | "Holla at Your Boy" | Nominated |
| 2011 | Nigeria Music Video Awards (NMVA) | Best Afro Pop Video | "Holla at Your Boy" | Nominated |
| 2011 | MOBO Awards | Best African Act | Himself | Won |
| 2011 | Channel O Music Video Awards | Most Gifted Newcomer Video | "Holla at Your Boy" | Nominated |
| 2011 | Channel O Music Video Awards | Most Gifted Video of the Year | "Molowo Noni" (Samklef featuring Wizkid, D'Prince, and Ice Prince) | Nominated |
| 2011 | 2011 MTV Europe Music Awards | Best Africa, Middle East and India Act | Himself | Nominated |
| 2011 | Dynamix All Youth Awards | Artiste of the Year | Himself | Won |
| 2011 | Nigeria Entertainment Awards | Hottest Single of The Year | "Tease Me/Bad Guys" | Nominated |
| 2011 | Nigeria Entertainment Awards | Best New Act of the Year | Himself | Won |
| 2011 | Nigeria Entertainment Awards | Best Pop/R&B Artist of the Year | Himself | Nominated |
| 2011 | Headies 2011 | Best Pop Single | "Holla at Your Boy" | Nominated |
| 2011 | Headies 2011 | Next Rated | "Holla at Your Boy" | Won |
| 2011 | City People Entertainment Awards | Best New Male Artiste | Himself | Won |
| 2010 | Dynamix All Youth Awards | Promising Artiste of the Year | Himself | Won |
| 2010 | Dynamix All Youth Awards | Song of the Year | "Holla at Your Boy" | Nominated |
| | | | | |
| | | | | |
| | | | | |
| | | | | |
| | | | | |
| | | | | |
| | | | | |
| | | | | |
| | | | | |
| | | | | |